Best Halloween Movies Available for Streaming
By Leah Goggins
Whether it's Hulu, Netflix or HBOGo, these are your top picks for a spooky, scary, streaming Halloween.
The Craft (1996, dir. Andrew Fleming)
"We are the weirdos, mister." [Image via Columbia]
Featuring breakout performances from Robin Tunney, Fairuza Balk, Neve Campbell and Rachel True, this cult classic follows new girl Sarah (Tunney) as she deals with a new school, a new house and three new best friends who need her to complete their coven. Filled with love spells, successful rounds of "light as a feather, stiff as a board," a very 90s soundtrack, and plenty of magic gone mortally wrong, The Craft is the Heathers-esque Halloween flick you never knew you needed.
Available to stream from Netflix.
Scream 2 (1997, dir. Wes Craven)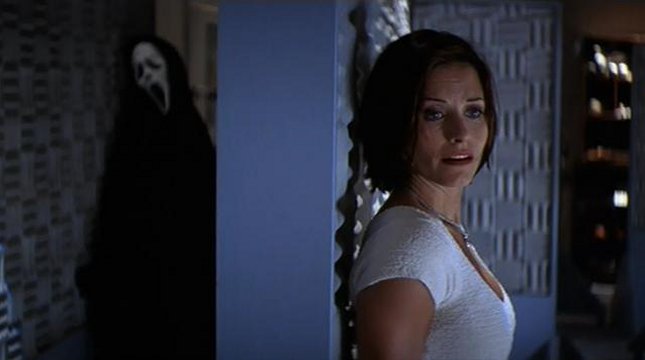 "Never, ever, under any circumstances, assume the killer is dead." [Image via Dimension Films]
Ghostface is back, y'all— and this time there's a movie within the movie. One year after the violent events of Scream, there is (somehow) already a new movie release for a film about the Woodsboro killings. After Ghostface murders someone at a public preview of Stab, our old cast of characters arrives at Windsor College, the new home of heroine Sidney Prescott. With an extremely high body count and music from Marco Beltrami, Danny Elfman and Hans Zimmer, Scream 2 proves to be the witty, bloody sequel that improves upon its source material.
Available to stream from HBOGo. Looking for a marathon? Stream Scream 3 from HBOGo and Scream, the MTV serial, from Netflix.
Young Frankenstein (1974, dir. Mel Brooks)
"Frahnk-en-steen." [Image via 20th Century Fox]
Partly based on the novel Frankenstein and a perennial favorite of the high school reading list, Young Frankenstein is story of Frederick Frankenstein, the grandson of the original Victor Frankenstein. When Frederick's great grandfather dies, he returns to Europe to put the old family estate in order. Soon enough, Frederick finds himself in the family business of reanimating the dead. Starring Gene Wilder and Peter Boyle, Young Frankenstein is a hilariously spooky parody of the dozens of Frankenstein films.
Available to stream on Netflix.
The Blair Witch Project (1999, dir. Daniel Myrick & Eduardo Sanchez)
"I'm afraid to close my eyes, I'm afraid to open them." [Image via Artisan Entertainment]
The first mainstream "found footage" film, The Blair Witch Project captures the day to day happenings of three students filming a documentary in the middle of the woods. But it isn't all hikes and waterfalls: As Heather, Michael, and Josh research the fabled Blair Witch, it soon becomes clear that something is amiss. With stone piles being constructed outside of their tents, mysterious screams in the night and bloody collections of sticks being delivered to the campsite, it's no surprise that things get only worse for these three.
Available to stream on HBOGo.
The Addams Family (1991, dir. Barry Sonnenfeld)
"You frightened me. Do it again." [Image via Paramount Pictures]
Starring Anjelica Huston, Raul Julia, Christopher Lloyd and Christina Ricci, this installment in the lives of America's favorite ghoulish family sees Uncle Fester returning from his time in the Bermuda Triangle. As the family learns that Fester might be just an imposter, they have to adjust in major ways. Hijinks, electric chair incidents, toxic lemonade and an avalanche of Wednesday Addams wisdom ensue. The Addams Family, complete with Academy Award-winning wardrobe design and an original song by MC Hammer, is not to be missed for your Halloween movie marathon.
Available to stream on Netflix.
Scooby-Doo (2002, dir. Raja Gosnell)
"Whatever you do, don't go into that spooky island castle." [Image via Warner Bros]
Following a huge fight over a stressful case, Mystery Inc. splits up for good. That is, until two years later when they run into each other on Spooky Island. Suddenly trapped on an island of possessed tourists and villainous characters, Scooby, Shaggy, Velma, Daphne and Fred reunite to solve their weirdest mystery yet. Scooby-Doo features a screenplay by James Gunn (yes, that James Gunn), a stacked cast of stars and supporting actors and Velma losing her glasses. What more could you need?
Available to stream on Netflix.
The Purge: Election Year (2016, dir. James DeMonaco)
"This is the American way." [Image via Universal Pictures]
The third installment in The Purge franchise, Election Year follows a security team protecting an anti-Purge presidential candidate, Charlie Roan, after the immunity of government officials is revoked. Facing standoffs with teenage girls, paramilitary troops, political enemies and gangs, former policeman Leo Barnes must protect Senator Roan if he ever wants to see his country run without the annual Purge. With Frank Grillo returning as his Anarchy character Leo Barnes, Election Year is the action-packed horror flick to keep you up this Halloween.
Available to stream from HBOGo.
Children of the Corn (1984, dir. Fritz Kiersch)
"What hath the Lord commandeth?" [Image via New World Pictures]
When traveling couple Vicky and Burt come across a young boy that has been stabbed in the small town of Gatlin, it seems like there may be no one there to help. However, they soon realize that the town has a very active population—a group of children who worship a god called "He Who Walks Behind the Rows." Led by two zealous young boys, the children practice bizarre, religious rituals and sacrifices, murdering adults that cross their path. Adapted from a short story from Stephen King, Children of the Corn will keep you away from large corn fields for the rest of your life.